Last Minute Strippers - 24 hours
Flexible travel to: Hen/ Stag Parties, Birthday Parties, Ann Summers Parties,
Ladies Nights, Office, Charity and Leaving functions. Last minute bookings.
Doctor Male Strippers in London Resuscitate Cancelled Hen Parties
London male strippers have ditched their baby oil for hand sanitizer and white coats to teach hen parties online how to stay safe during pandemics. If there's anything male stripper themes have in common, it's uniformed authoritative figures who facetiously lead hen parties into hysterics in the middle of an imbroglio.
With around half of doctors appointments now moving online to virtual consultations and telehealth to reduce waiting times, it's only appropriate for doctor strippers who act well on camera to help ameliorate the trauma. It's fair to say aesthetic male stripper doctors can cheer up vulnerable hens coping with anxiety in stressful times. Especially maid of honours with the burden of hen party planning during an unpredictable Covid-19 pandemic.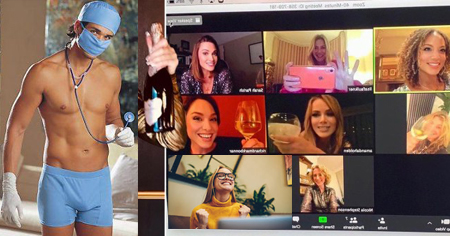 During a health crisis there is no place for irreverence, although that could change with frustrated hen parties fed up of cancelled party plans and droves of bored, randy girls quarantined indoors across UK frantically researching what options there are to salvage the situation. Last minute Zoom parties offer one such solution.
If your bride to be works in the health care sector as a junior doctor, nurse, medic, surgeon, GP or vet, a stripper surprise themed as a doctor could be perfect to put friends back in the party mood. For practical joker hens, even funnier would be if your victim friend has a bridegroom in the medical profession to mimic. Only this time your doppelganger stripper will be performing live on Zoom to lead by example social distancing. Any disobedient hens not adhering to self isolation and social distancing rules will be given warnings by associates of your hunky doctor - we're talking about a hunky policeman who resembles Magic Mike. If modelling a stripper off the bride's husband is one of the best cheap hen party ideas - then personalized face masks should be factored in - inspired by the latest hen party trend.
Top victims in medicine who may benefit from cheer up virtual doctor strippers
NHS nurses more than ever need cheering up from the adversity of Covid-19 and hospital PPE shortages, particularly if their birthday or hen party has been cancelled during self isolation.
Maid of honours who carry the burden of hen party planning during times of extreme uncertainty who need a single fix solution to salvage pre-planned hen parties.
Isolated, vulnerable or mature friends who's birthday party plans have been foiled.
Recently graduated trainee doctors from university who are celebrating their birthday party may also need some fun and humour as an out of the box birthday party idea. Medical school is no stranger to strippers either with many student female strippers known to strip their way through university.
Doctor male strip shows with big buckets of soapy water
With hygiene protocols being of paramount importance to flatten the curve of infections in a pandemic, doctor male strippers use lots of soapy water and foam to make sure all areas of the human body are scrubbed clean. Antibacterial soap is a must - not just before their strip show but live with a full demonstration on Zoom for you n' friends to giggle at. Who would of thought that doctors health and safety protocols could be choregraphed into a full blown strip show?
Above normal blood pressure often ensues as a result of white coat syndrome, mixed on top of being in the presence of attractive males stripping, so your virtual doctor may address all members of the Zoom party to partake in blood pressure lowering exercises.
Besides roleplaying practical methods of infection prevention during a strip show, your doctor male stripper will round off his honed dance moves by cracking some jokes over FaceTime and answer any further questions and concerns about wellness during isolation or male stripping escapades. Stories of strip shows in London pubs and clubs with celebrities may be on the cards. Talking of cards, why settle for just a birthday card for birthday girls/ family members when you can hire a birthday stripper to make her feel special. Online birthday parties are no longer a chore with Zoom. Mature women in the vulnerable category can have their feet up chatting to friends online while laughing over a male stripper on Zoom.
Doctor male strippers in London understand there is a sense of urgency in medical emergencies across the capital so are therefore ready on call - last minute and late at night with their stethoscope and white coat uniform - especially for virtual parties.