Policeman Strippers

Party Pranks and Absurd Scenarios like in Magic Mike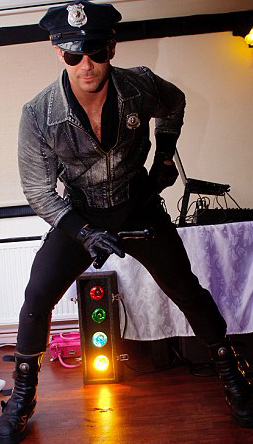 With social distancing guidelines, parties and groups of friends are being policed more and liable to warnings from hunky policeman strippers.
Male strippers are often hired to parody and impersonate a policeman for a variety of pranks and scenarios using 'gallows humour' - like in the movie Magic Mike. The most popular being responding to noise complaints at a wild hen party, then handcuffing and 'arresting' the bride for being naughty.
The idea is to shock victims into believing they're in trouble with the law to start, then suddenly treat them to a titillating dance routine unexpectedly when the music starts.
Some party victims have genuinely done something naughty in recent past which can be used in levity as material to script a roleplay when the male stripper performs for a private party or Zoom party. For example erratic driving, drinking and driving, drug posession or breach of peace in the neighbourhood.
To make a policeman male strip show at a party hilarious - a trivial, harmless wrondoing or faux pas can be inflated into a theatrical interrogation with loaded or playful questions...
Overzealous policeman stripper dishing ludicrous charges
Loitering with intent to enter a birthday party during lockdown
Coughing without due care n' attention during pandemic
Jaywalking sexily outside a Magic Mike show in London
Licking lips provocatively at a policeman to evade arrest
Parading the streets of London while handcuffed to a naked inflatable man/ walking in public with an offensive adult toy!
Flouting covid lockdown
Coronavirus provides a hotbed of opportunity for policeman stripper roleplay ideas, especially combined with forbidden party themes. Taking unnecessary journey's to friends, illicit parties, no social distancing, no Covid-19 mask worn are just some ideas to play with for a hen party scenario to make a male strip show painfully funny, evocative and engaging for female audiences.
Local birthday or hen party ideas
Relating local places to a policeman male stripper hire performance increases the realism and hence humour for the bride or birthday girl. Whether it be a local area the hen-bride is passionate about or frequently visits in London, Essex, Kent, Birmingham or Manchester. For example; exercising too many times in Hampstead Heath during past lockdowns or walking along Ilford High Road with inflatable naked men! If the lucky lady is a local sports team fan - the stripper could even wear her favourite sports club's shirt underneath his police costume!
Policeman strippers have genuine London police uniforms to make the experience as authentic as possible, and hence funnier for discerning audiences. They arrive with fun party props like handcuffs, truncheon and whipped cream whilst open to further suggestions... The best male strippers know how to make a party entrance and have the skills to make good girls turn bad while making police house calls!
Policeman Stripper Quirks
Some male strippers like to add quirky features or motif's to their policeman routine or costume to make it more evocative. For example police car siren music exactly as the stripper enters the party or quirks such as tight black leather trousers adding homoerotic connotations or variations of police uniforms including the American cop. Some parties want panache and surprise instead of formulaic male stripper routines. In stark contrast to audiences expecting realism - some parties deliberately want to make it blatantly obvious it's a flamboyant male stripper walking into the room - to enjoy the reaction on the blushing victim's face.
Hire a policeman male stripper in London, Dartford, Essex, Kent, Birmingham, Manchester, Liverpool, Leeds, Glasgow, Cardiff. We specialize in last minute bookings.