Male Strippers East London
Male strippers in East London have a lot of experience performing in clubs, pubs, bars and restaurants in areas such as Shoreditch, Hackney, Barking, Dartford, Ilford, Dagenham and Romford. Our database of top venues is available to help customers plan the perfect night out in East London which is available on request.
Going back to the roots of stripagrams, male strippers traditionally performed publicly in East London pubs full of rowdy punters. Now in East London it's commonly a more private affair for a hen party or birthday party. Adult entertainment licencing laws are becoming stricter in East London than other London districts such as North or South London. Scenes in East London pubs where last minute stripagrams entertained the entire pub cavorting fully naked in a show were typical scenes back in the 80's and 90's. Now there is more pressure on landlords from East London councils so people opt to host their party entertainment in private addresses, private/ hired areas of pubs or compromise with slightly tamer alternatives to fully nude stripagrams such as a costumed kissagram, buff butler or singing telegram that strips partially which appeals to more mainstream audiences in a public setting such as open plan pub.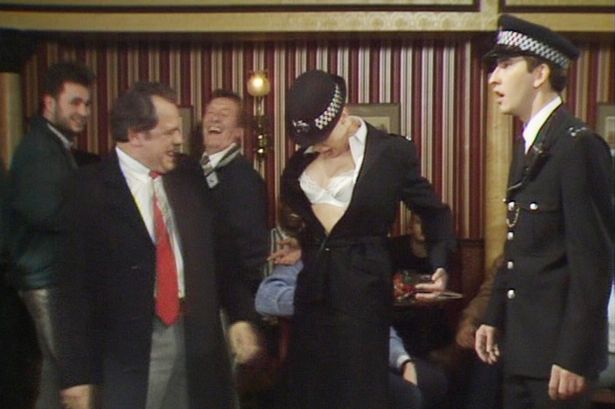 Policeman strippers are very popular, reminiscent of the scene in only fools and horses in the Nags Head in Peckham, London when Del Boy and Rodney mistake real police officers for police strippers. Hen parties and birthdays in Peckham can have as much fun as the Trotter's by booking an East London male stripper.
The nightlife in East London is buzzing most evenings, especially in Shoreditch which is popular for hen nights. Male strippers in Shoreditch have previously performed at the Hoxton bar/ hotel, EC2A in the private rooms at the back of the bar which are available for private hire.
The Karaoke Bar in Smithfield EC1A is another great bar to entertain party groups with a male stripper or the looking glass cocktail club on Hackney Road E2 or Aqua Bar & Grill in Blackheath. A full strip show is allowed in these places in East London.
East London boroughs of Tower Hamlets, City of London, Hackney, Newham, Lambeth and Southwark, including Whitechapel, Stepney, Shadwell (all E1), Bethnal Green, Haggerston (both E2), Bow, Mile End (both E3), Canary Wharf, Limehouse, Poplar (E14), Shoreditch, Barbican (EC2), Aldgate (EC3), Southwark (SE1), and Rotherhithe (SE16).
Macbeth Shoreditch is recommended.
Dartford
Hackney, Barking, Dartford
Bexley
Romford
Old street is another renowned place to go out in East London.