Male Strippers Oxford
Pub Male Strippers Oxford
OXO BAR on George Street in the city centre is a trendy pub that allow male strippers to perform at the rear lounge area with secluded seating areas allowing unrestrained hens go wild over finely sculpted male stripper bodies.
St Aldates Tavern in Oxford city centre has a large private area upstairs perfect for large rowdy hen parties who want to make a lot of loud noise around a male stripper. Bar staff are welcoming and geared up for this.
Oxford Airbnb Male Strippers
The Cotswold Manor Estate in Bampton is a popular holiday rental for hen parties hiring male strippers in the Oxfordshire countryside, 30 minutes from Oxford city centre. Deciding to stay in your airbnb accomodation means full nude strippers and late night male strippers in Oxford are easily available without any embarrassment from public onlookers or leering bar staff.
With so many airbnb mansions and manor houses scattered around Oxfordshire countryside, hens are spoilt for choice for classy hen weekend retreats. Beside the hot tub and typical naughty hen party games - the only missing activity is a hunky male stripper dancing in the airbnb living room, kitchen or garden while enjoying the reaction of an embarrassed or elated bride as she's centre of attention.
Trendy Cafe Male Strippers
The Jam Factory on Park End Street in Oxford allow full nude male life drawing classes and actively encourage large group bookings to fill up their private rooms during the daytime on Saturday afternoons. Young bohemian staff from relaxed Oxford university culture are happy to help organize events for Oxford hen parties at this venue. If nude male life drawing models are allowed, there's a great chance daytime male stripper's are allowed to do tasteful shows for their local female customer's. For hen's having a boozy brunch or bottomless brunch around Oxford this may be an ideal pitstop for private group entertainment during the day. The Jam Factory is just around the corner from Oxford train station.
Late Night 24/7 Last Minute Male Strippers in Oxford
Sometimes party groups wait until enough alcohol has been plied down the lucky birthday girl, hen or victim before booking a local Oxford stripper last minute, late at night. Male strippers tend to work very late around the clock in Oxfordshire, Berkshire and Buckinghamshire and are generally available at short notice on call 24 hours.
Oxford Male Stripper Hen Parties
Oxfordshire is a popular location for 'sophisticated hens' having classy hen weekends in the countryside and girly nights out on the razzle in Oxford nightclubs like ATIK. Trashy hen do's in Oxford are few and far between with less nylon veils and sashes to be seen than places like London, opting for classy strippers.
Even Meghan Markle apparently celebrated her hen party in Soho Farmhouse, Chipping Norton - a lavish health retreat in Oxfordshire. With such a large student culture near Oxford university, 18th and 21st birthday parties are popular excuses to hire male strippers in Oxford at student digs.
Sten Parties, Strip cruise, strip show on boats on river
Party Bus & Limo Male Strippers in Oxford
With so much alcohol involved on a hen party hen's may struggle to walk around town without the aid of an Oxford party bus chauffeur or limo. Hen's can safely party away in the comfort of a local party bus with male stripper without any worries about walking far or logistics.
Oxford male stripper venues full up to date listing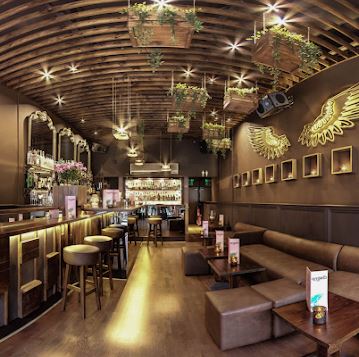 Pubs and wine bars in the city centre:
OXO BAR, 48 George St, Oxford, OX1 2AQ, a plush cocktail bar next to the bus station in oxford. it has a private area at the back ideal for hen parties and birthdays.
Angels Cocktail Bar Oxford, 55 Little Clarendon St, Oxford OX1 2HS
ATIK, Cantay House, Park End Street, Oxford OX1 1JD
St Aldates Tavern, 108 St Aldate's, Oxford OX1 1BU
The Blue Boar, 1 Bath St, Abingdon OX14 3QH
Banbury
Musketeer, Ruscote Avenue, Banbury OX16 2NZ, has a back section with easy going staff who will even help setup special music for your party
Wantage
The King Alfred's Head, 31 Market Pl, Wantage OX12 8AH, upstairs big function room
Shush The Venue, Newbury St, Wantage OX12 8BU
Unconfirmed
The Plush Lounge, Frewin Ct, Oxford OX1 3HZ