Male Strippers Birmingham
Birmingham and West Midlands branch of Stripper.co.uk has one of the highest concentrations of talented male strippers for hire near you, with backgrounds in professional dance, fitness and male modelling. Jewellery Quarter and broad street strippers are popular, especially for pub birthday celebrations.
The best male strippers in Birmingham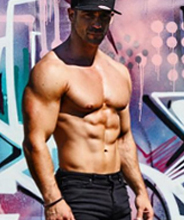 Fabio successfully made it into the final stage audition for Magic Mike Live strip show. His chiseled good looks and razor sharp dance moves have cultivated his reputation as one of Birmingham's best male strippers.
He is heavily active on the dance and male strip circuit with years of experience specializing in policeman strip shows and officer gentleman strip shows around West Midlands areas. For his elaborate and sophisticated striptease routines he draws influence from Latin, break and street style dance to seduce the audience. He is available to wow hen parties, birthdays, gay lgbt parties and private events at last minute.
News for male strippers in Birmingham
Stripper Birmingham theme ideas - Peaky Blinders would be ideal for a local period look male stripper entertaining Cillian Murphy fans.
More people in 2020 are hiring male strippers for girls nights in - to visit private house parties and airbnb's to keep entertainment costs down.
With people worrying about Brexit's affect on jobs - a fun girls night in with low cost entertainment in the form of a male stripagram in police uniform knocking on your door is often better than expensive Birmingham nightclub entries, taxis, and cocktails on a girls night out.
White and black male strippers are slowly being 'outstripped' as the popularity for mixed race male strippers in Birmingham in 2020 continues - perhaps thanks to the influx of hot fresh male talent entering the industry.
Birmingham city and culture
The metropolitan area of Birmingham (West Midlands) is the second-largest city in UK by population. With a two hour drive between London and Manchester, it's well connected to a nationwide audience. The culture is relaxed.
Birmingham venues for Stripagrams that can be turned into male strip clubs!
Male strippers in Birmingham and West Midlands are versatile at performing in all venue types, from small scale private addresses, to nightclubs like Reflex club on Broad street in central Birmingham, to local pub functions, in local community & ladies nights.
Male strip shows in Pubs are popular for small parties on a budget to keep costs low. Also old working men's clubs. Royal British Legion clubs are also popular venues.
Recommended public venues with a relaxed atmosphere include:
101 Nightclub, The ARCADIAN Centre, Hurst Street
Cricketers arms, Little Green Lane in Birmingham
The New Inns pub, Erdington
Crack open the Prosecco and book your Birmingham male stripper today
Coventry, Rugby, Sutton Coldfield, Wolverhampton, Nottingham, Northampton, Milton Keynes