Male Stripper Surprise Party Entrances

Male strippers take acting to the next level with surprise party entrance roleplays, scripts and hysterical opening lines...
Cheeky friends at a party occasionally go to extreme lengths personalizing elaborate opening speech lines and scripts to turn male strippers into unsuspecting actors with dry humour that make a surprise party entrance as authentic and realistic as possible. Most of the emphasis is put on the surprise and roleplay with a goal to create hysteria at a private party. The stripping element and novelty of a hunky guy being present an added bonus or afterthought.

"
It's not a typical male strip show!
"
For a seasoned joker organizing, it's not a typical male strip show. In these cases a stripper's lines are meticulously brainstormed, edited and polished with weeks of preparation.
Party co-conspirators are carefully chosen and clued in to not give the game away. The duration of the stripper's surprise party entrance is dramatically extended to draw out any method acting involved for as long as possible for the audience's entertainment.
Funny & evocative stripper surprise party entrance ideas
If it's a policeman stripper character conducting an arrest at a party, the delivery of lines is expected to be deadpan serious and lifelike with accurate vocabulary. To amplify humour small details matter; such as the car number plate of the 'offender' or vital particulars of even the most trivial misdemeanor she/ he is being interrogated about. A traffic warden accusing a birthday girl at a party for being illegally parked outside her own house another funny entrance with dry humour.
In a typical blindfolded hen party male strip show, the theatre at the beginning is sometimes funnier with a coquettish character or tongue in cheek line delivery (using suggestively funny words such as "naughty" repeatedly to get a happy-clappy response). This is not the case for a practical joker friend conducting the booking - they want 100% realism and believability in a stripper's character during the entrance to see how far things can be taken seriously, pre-strip show.
A well rehearsed stripper intro speech is delivered in a matter-of-fact vocal tone without breaking character as fellow hens start sniggering or cracking grins in the background.
Instigators want real reactions from friends in real embarrassing situations. Friends, co-workers, family - even spouses in the audience surreptitiously capture it on video for endless laughs later.
Innevitably a stripper surprise party unfolds like a movie scene with the reactions being priceless, especially if for example a birthday victim is gullible or guilty during a police stripper interrogation.
Friends or family with a dark sense of humour also draw pleasure from other party members wondering what is going on. Deliberately not telling everyone but a select few is another common ploy at surprise hen parties and birthdays that want to maximize the surprise and hysteria effect.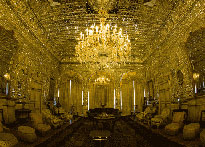 In extreme cases the comedy value is in the fact an unannounced male stripper entrance is inherently inappropriate or at an incongruous location - such as lavish dinner party or quiet 'ladies who lunch' event in luxurious venue such as a 5 star hotel. A smart waiter in bow tie could be topping up champagne glasses one minute, then busting into a series of Magic Mike dance moves with Pony playing the next - to the delight of forty something bored housewives. Sophisticated strippers open the door for igniting classy hens and birthdays having high end occasions, even if it means a tasteful topless routine in sharp Christian Grey suit - similar to Madonna's backing dancers. Imagine turning a dull party atmosphere into an extravaganza within seconds by injecting an evocative classy male dancer into the fray.
Simple opening gambits that get spontaneous, unexpected responses during a grand entrance make stripper hire all the more exciting for some bookers. "The music is too loud..." is a common and believable opening gambit for an unsuspecting male stripper character such as airbnb landlord, hotel manager or policeman - particularly for large unruly house parties late at night who've never seen a male stripper before.
Accusing friends of breach of peace or hooliganism are other amusing lines and micro-gags in an opening male strip act to politely vilify unwitting mates.
Party strip show preparation
A series of questions to understand if the bride to be or birthday girl has done anything mildly naughty or questionable such as breaking the law, breaking rules or even misbehave in a trivial way is all relevant ammo in a male stripper script.
Our stripper actor can turn her misdemeanour into an embarrassing interrogation, only for her to be elated once a classic strip song starts playing and shirt buttons start popping open!
An extra tip for maximizing the positive surprise effect with a bride-to-be is to set low expectations on the subject of party entertainment if the topic is raised before the party.